5 Simple Investing Books For Beginners
Disclaimer
This article may contain affiliate links including ones for the Amazon Associate Program, meaning that we may receive a commission from qualifying purchases made through the links. For more information check out our Full Disclaimer by clicking the button below.
Investing in the stock market for the first time can be a little intimidating if you don't have some background knowledge of how investments work.
The good news is, you don't need to have an investment banking degree to make intelligent decisions about where to put your money.
Numerous investing books can guide you through the fundamentals of how the market works, different investing styles, and what you need to know about individual securities.
Deciding which investment books for beginners to read first can be tricky because you don't want to get overwhelmed. These five recommendations are the best investing books for beginners. They're all packed with valuable information and explain concepts in a way that's easy to understand for a novice investor.
1. Broke Millennial Takes On Investing
Described as; "A guide to investing basics by the author of Broke Millennial, for anyone who feels like they aren't ready (or rich enough) to get into the market." Broke Millennial Takes On Investing is a great guide to read. It has a light, and revitalizing take on investing that is perfect for newbies.
This publication specifically appeals to millennials because it focuses on stuff like:
Investing while paying down student loans
How to invest in a socially conscious way
Using apps
Where you can look online for up-to-date investment suggestions.
Get Broke Millennial Takes On Investing here.
2. The Simple Path To Wealth
The Simple Path To Wealth is a must-read on your investing trip. You'll discover a basic method of investing from somebody who has actually been investing for decades.
You'll additionally learn why you should stay clear of debt (and what to do if you do have it). You'll discover where conventional investing suggestions fail and also what will really benefit your life.
And most importantly, you'll discover what a securities market is as well as just how to buy in a bull (rising) market or a bear (declining) market.
I actually enjoyed this book. It's a relatively quick read that is enjoyable and also light-hearted.
Get your copy of The Simple Path To Wealth here.
3. Quit Like a Millionaire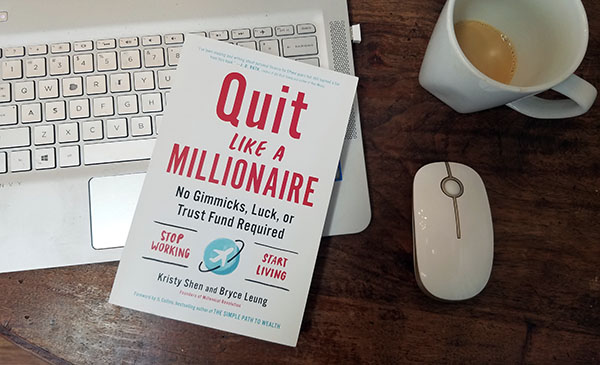 Quit Like a Millionaire is an easy-to-digest book with actionable steps to replicate the author's own success. Informative and straight to the point, this book contains much useful information for both Canadians (the author is Canadian) and Americans. You will find useful tips on how you could invest your hard-earned money but also the best way to maximize the withdrawal once you decide to 'quit like a millionaire.'
This is a relatively straightforward read that will certainly educate you a lot of what you need to know about how to invest and save to retire early here.
Pick up a copy of the book here.
4. The Little Book of Common Sense Investing
In The Little Book of Common Sense Investing, you'll learn the simplest and most efficient financial investment techniques for generating wealth in your life. The guide recommends using the power of low-cost index funds to save for retirement. Buy and also hold at an affordable– that's the primary takeaway from this read.
You'll also discover exactly how to construct a diversified, low-fee profile. This is necessary due to the fact that diversification makes investing safer for you as well as low-fees mean you're making more cash in the long run.
Get the little book here.
5. I Will Teach You To Be Rich
This is among the most recent books that I've read, and it also happens to be one of the most polarizing. You're either going to despise this book or enjoy the heck out of it. I Will Teach You To Be Rich is among guides that get straight to the point and does not waste any time. If you've read this publication, you know what I'm talking about.
With this book, you'll learn how to
Crush your financial obligation and financings ASAP.
Why shouldn't you utilize your regional financial institution to store a lot of your cash.
How to automate your funds to save & make even more of it.
Scripts for decreasing credit card passion charges and leaving late charges and also most significantly.
Create a set-it-and-forget-it investment plan that is super simple.
Get the controversial 'I Will Teach You To Be Rich' here.
Final Thoughts On The Best Investing Books For Beginners
You don't need to be an investing professional in order to save for retired life properly. With these books, you'll learn what you need to know to make informed decisions on how to save and invest your money for retirement without having to get a degree in finance.
P.S. Outside of my 401k and IRA, I like to invest in specific stocks for fun. You can sign up for Robinhood below and get a free stock.
Learn more about Robinhood here.
Have you read any one of these investing books? What's your favorite investing book?