Want To Make Money Without Having To Leave Your House? Here are 10 Online Job Opportunities That Could Be Perfect For You!
Whether it's that the daily commute to and from work has got you down and you want to find a way to work from home or that you're just looking to make a little extra money on the side, either way the online world is filled with opportunities to earn money from the comfort of your living room.
Even just making a little extra money through a side-hustle online can be transformative, allowing you to:
Pay off your debts (mortgages, car loans, credit cards, and student loans)
Save for a vacation or even an early retirement
Help Charities and Causes that you are passionate about by getting extra money together to donate to them
Save for your children's college expenses
Lose Stress by diversifying your income so that you don't only have to rely on one-source of income
Save up for a big purchase like a new car.
Potentially turn your online side-hustle into a replacement for your 9-5 job allowing you to quit and focus on the things you're passionate about
So, if you've been racking your brain trying to come up with a brilliant idea to make extra money you're in the right place. This list of creative side hustles and online job opportunities you can do from the comfort of your own home is just what you've been looking for!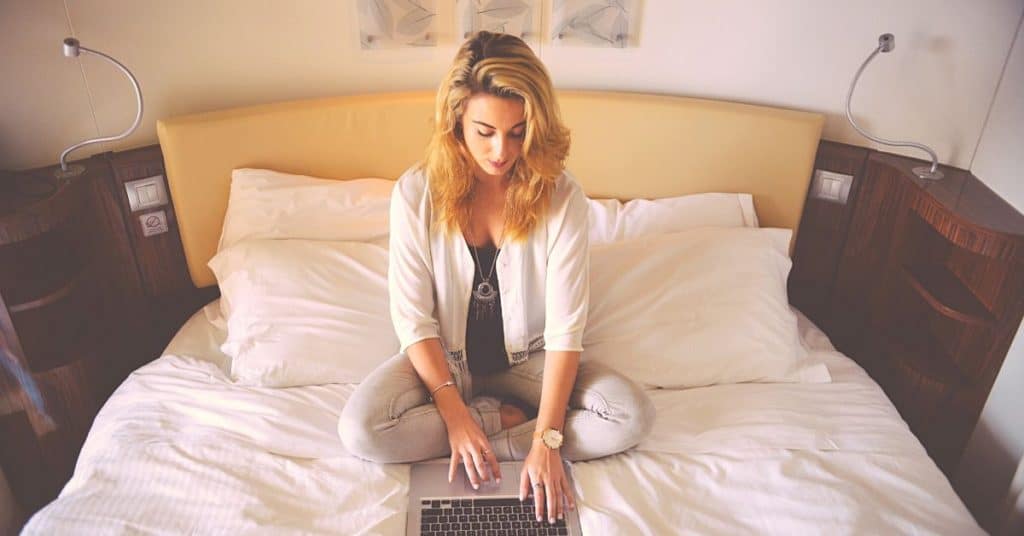 Participate in Market Research
One of the easiest ways to make money online if you ever have a free ten or fifteen minutes in a day is to participate in market research surveys, while you won't get rich doing surveys online you can earn a uprising amount of money doing them and individually the surveys wont take up much of your time.
There is a bit of risk involved when simply googling 'paid survey services' or something like that as there are a number of illegitimate sites offering to pay people in exchange for filling out questionnaires and surveys. To make sure you don't end up being swindled by one of these places, sign up for one of these legitimate and trusted survey and market research services.
Inbox Dollars
Inbox Dollars (Their Canadian site is called 'Daily Rewards') is a standard "fill out a survey and get paid" option if you're interested in perusing this as a side-hustle. The biggest benefit to signing up with Inbox Dollars is they regularly offer a $5 dollar sign-up bonus.
Pinecone Research
You can earn up to five dollars per survey with Pinecone research. Definitely worth checking out for those of you that have a few minutes each day that you can spend doing a survey or two.
Swagbucks
This is the most popular and well-known of the market research sites out there, reportedly having paid out more than three-hundred-million dollars to participants over the years. As with Inbox Dollars they regularly offer a $5 sign up bonus promotion so you may be able to get $5 just for singing up with them.
Provide Search Engine Evaluations
Ever wonder how sites like Google, Yahoo, and Bing decide what content comes up for search terms and phrases?
You probably figure its just some super smart artificial intelligence thing, right?
Well that's true to a point; search results on these sites are mostly decided by a complex computer algorithm but they also require the human touch to make sure search results stay relevant and helpful.
This is where a 'web search evaluator' (or 'search engine evaluator') comes in. These evaluators will search specific phrases and questions on Google (or Bing, Yahoo, even YouTube) and then rate the results that come up, noting down how relevant and helpful the results are and pointing out any off-topic or irrelevant things that come up. This information is then used to adjust the search engine results.
Being a search engine evaluator can pay up to $15 per hours of work, the main companies that offer these positions are Appen and Lionbridge.
Work as a Transcriptionist
Perfect for people with strong attention to detail and great listening skills, working from home as a transcriptionist may be just the work from home opportunity you've been looking for. It comes with a number of benefits including the ability to set your own hours and work as little or as much as you want. This makes it perfect whether you're looking for a full-time online job opportunity or just something to earn a little extra money on the side.
Being a transcriptionist means that you will listen to audio (or in some cases watch video) and type out what you hear. Which while it may sound super easy at first the difficulty comes from the fact that the audio you'll be listening to is likely to be difficult to hear so you may have to replay sections to make sure you're getting down the right words.
Transcriptionist as usually paid per minute or per hour of audio that they transcribe, this does not mean you are paid per minute or per hour it takes you to transcribe the audio but rather you're paid based on the length of the clip itself.
For example, a job offering to pay you $50 to transcribe one hour of audio is not an offer to pay you $50 per hour of your work, so your rate of pay will depend on how long it takes you to transcribe the audio. If you were to get the full hour transcribed in about 2 hours of work you'd effectively make $25/hour.
However if you have significant difficulty transcribing the audio and it takes you 3 and a half hours to complete the one hour of audio then you'd be making about $14.28 an hour. But if you have good listening skills, type fast and accurately, and are motivated to get the work done you could be earning quite a bit as a transcriptionist.
There are a number of companies hiring transcriptionist, some worth checking out include:
Rev
Rev is always looking for new transcriptionists to join their team, they pay out weekly through paypal and their average transcriptionist is making about $245.00/month with their current top earner making $1495.00/month. Check them out here.
TranscribeMe
TranscribeMe boasts that they are the top-rated and best work from home site there is, they pay between $15 and $22 per audio hour and have a top-earner making $2,200.00 a month. As with Rev, they do their payouts through paypal. You can learn more about or sign up for TranscribeMe here.
Work as a Proofreader
Do you have strong attention to detail and an ability to seek out grammatical, punctual, and spelling errors in a block of text. If so then becoming a proofreader may be the perfect job for you.
Even with the advent of spell check and grammar software and services such as grammarly, many companies still prefer to have another set of eyes do the proofreading as there are things that these services simply don't pick up that only an experienced reader can.
The pay for proofreaders varies considerably with specialized proofreading, such as the proofreading of medical or legal documents, being the highest paying jobs in the industry. You can find proofreading jobs through Proofreadingservices.com where they advertise competitive pay ranging from $19 to $49 dollars per hour depending on your level of experience and skill.
Another place to search for proofreading jobs is through UpWork, an online freelancer platform with regular job postings in nearly every niche.
Teach English Online
The English as a second language (ESL) teaching industry used to be built around teachers travelling to foreign countries to teach English in person, but over the last decade there has been a dramatic shift in this profession with the geographic restrictions of the past being knocked down as more and more ESL program are offered online.
And for each of those ESL classes there is a teacher, and that teacher could be you.
To become an online English teacher you need to be fluent in English and have a bachelors degree, this degree does not need to be in any specific field of study. It also helps to have a TEFL (Teach English as a Foreign Language) certification, which you can get through BridgeTEFL.
Once you have that certification, you can apply to teaching positions through varies ESL providers, including:
VIPKID
VIPKID connects North American teachers with students in China, you follow a lesson plan developed by VIPKID and don't need to be able to speak a word of Mandarin or Chinese to qualify but you must have a University degree of some kind. The pay-rate is up to $22/hr and they give you a high level of flexibility, allowing you to set your own schedule and work as many or as few hours as you'd like. Check them out here.
QKids
Also for North American teacher, QKids is similar to VIPKID in most ways though the rate of pay is slighter lower (up to $20/hr). One major benefit of QKids has over VIPKID is that it allows University Students to join the program so you don't need to have completed your degree prior to signing up. Find out more about Qkids here.
Cambly
Cambly is a lightly different service than VIPKID and QKids, it does not require you to have a University degree or for you to be TEFL certified and the student you teach will already have some level of English language skills. The downside to this is that the rate of pay is a degree lower than the other options with a rate of about $10/hr. Check them out here.
Become a Freelancer
Sort of a catch-all option, becoming a freelancer within your field of expertise can be a great way to earn some extra income on the side. Online platforms like UpWork and Fiverr specialize in connection talented individuals with people who need to have work done.
You can easily find freelance work in a number of industries if you have the matching skill-set:
Writing
Proofreading
Bookkeeping
Graphic Design
Video Production
Video Editing
Web Design
Programming
If any of those jump out at you as things you are skilled in, consider signing up for a site like UpWork or Fiverr.
Become a Virtual Assistant
Everyone could use a little extra help and that's why the demand for virtual assistants is constantly growing. A virtual assistant is someone who offers services to other business owners, these services can include anything from; organizing and responding to emails, booking and confirming appointments, to social media management.
Being a virtual assistant comes with a lot of freedom, you have control over who you work for and what tasks you do. You can offer services for specific tasks that you prefer doing or you can be available for anything.
You can find Virtual Assistant work on Fiverr, Upwork, and Craigslist.
Sell Crafts on Etsy
Etsy is an online selling platform specifically set-up for creatives. If you enjoy making arts and crafts this is the perfect platform to find potential buyers. Handmade goods including jewelry, fine art, visual art, postcards, photography, custom clothing, and more are extremely popular on the platform.
If you have a talent for creating your own work and have struggled to get your work in front of an audience creating an account on etsy may just be the perfect opportunity for you.
Sell Items on Amazon
According to a 2018 report nearly half of internet users looking to purchase a product went directly to Amazon to make their search rather than using Google or any other search engine or website. This means that if you are looking to sell products online, having them listed on Amazon is a great way to get your products in front of potential customers.
As Amazon has a massive selection of over 12 million products, no matter what industry you are in you're likely to find potential customers (as well as lost of completion).
The initial costs associated with starting an Amazon business include;
Buying or Manufacturing Your Initial Product Inventory


Opening Your Amazon Account ($39/month or $0.99 per item sold)


Advertising (When you search an item on Amazon, you may notice that the top row includes "sponsored" results – the sellers of these items pay to push those up to the top. As a new seller you'll want to have some money put aside for Advertising as getting your initial sales will likely required that)


Build Your Very Own Online Store with Shopify
Interested in building your own business from the comfort of your home and crave the brand control that an account on Etsy or Amazon won't have? Then you're next best bet is likely the Shopify platform.
Shopify is a complete commerce platform that allows anyone to set up a store and sell their products online, you can easily start, grow, and manage a business.
Depending on the needs of your store Shopify has multiple package options, basic is $29/month, standard is $79/month, and the advanced package is $299/month.
Shopify offers a 14-day free trial.
In Closing
There are a huge number of online job opportunities, from part-time side hustles to entrepreneurship opportunities. If you have the time and the drive to succeed you can easily build up an online business and start raking in the cash.
If you have a grander vision of your future as an entrepreneur consider looking over our business start-up guide, who knows, the best opportunity for you may be the one you create for yourself!