How To Become Recession Proof
Do you worry about exactly how a potential recession or financial slowdown might affect you and your finances?
Assuming that you have time to prepare, you can put your fears to rest because there are lots of daily routines the average person can execute to shield themselves ahead of time from the sting of a recession and even make it, so the impacts of a recession aren't felt in any way.
As the economic downturn hits, these tools can help you make it through it in one piece financially.
Have an Emergency Fund
When the economic climate begins to dip, our work and our income can be put in jeopardy. It's because of this that conserving a reserve is vital when you plan for an economic crisis. In short, an emergency fund is all of the money you've saved up for the single purpose of helping you survive your daily living during economic challenges.
Whether your hours have actually been cut back, you've completely lost your job, your company isn't making any money, or you made some bad financial decisions yourself, emergency savings will provide you a safety net to draw on so you can ride the wave and also emerge from the economic downturn back on your feet.
If possible, attempt to save 3 to 6 months' worth of your monthly expenses, so when the economy is down, and cash is limited, you won't need to look to credit. To figure out your essential monthly expenses, simply do a breakdown of what they are:
Mortgage / Rent
Utilities (Heat, Electricity, Water, etc.)
Car Expenses (Insurance, Gasoline)
Cell Phone
Internet
Groceries / Food
Minimum Debt Payments (Credit Card, Student Debt, etc.)
Write down each of those monthly expenses, add them up then times it by SIX to get the amount of money you should have in an emergency fund in case of a massive economic downturn, job loss, or other issues that may mean you are out of work for months on end.
Saving money doesn't have to be hard, simplify it with these six strategies.
Here are some steps you can follow to conserve cash in an emergency fund if you have not currently started saving.
Live Within Your Means
If you make it a routine to live within your means each and every day throughout the great times, you are less likely to go into financial debt when gas or food costs rise. Debt results in more financial debt when you can't pay it off as soon as possible -if you think gas costs are high, wait until you're paying a 29.99% interest rate on them thanks to using an overdue credit card every time you purchase gasoline.
To take this concept to the next level, if you have a partner and are a two-income household, see just how close you can reach living off of just one spouse's earnings. In good times, this tactic will permit you to conserve extraordinary quantities of cash. How swiftly could you pay off your home mortgage, or just how much earlier could you retire if you had an additional $40,000 a year to save?
And in bad times, if one partner gets let go, you'll be OKAY since you'll already be used to surviving on one income.
Have Additional Income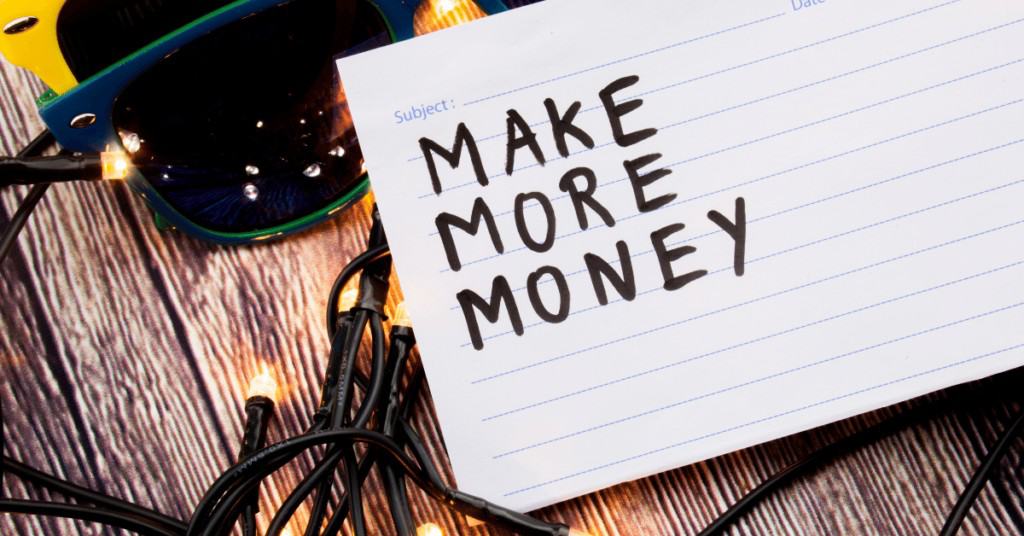 Even if you have a good paying and stable full-time job, it's not a bad idea to have an extra source of money, whether it's some consulting work or selling scarfs you knitted antiques on eBay. Expanding your streams of income goes is as essential as expanding your investments.
Once an economic downturn hits, if you lose one stream of revenue, at least you still have the various others. You might not be making as much cash as you were in the past, but every bit helps. You may also appear at the other end of the economic crisis with an expanding new company as the economic situation turns up.
Take a look at some ways to make fast cash here, and if you're interesting in launching your own business check out our guide here.
Invest For The Long-Term
So what if a decrease in the market brings your financial investments down 15%? If you don't market, you will not lose anything. The marketplace is intermittent, and in the long run, you'll have lots of opportunities to invest. If you invest when the market's down, you might end up thanking yourself later.
That being said, as you get close to retirement, you ought to see to it you have enough cash in liquid, low-risk financial investments to retire on time as well as offer the supply portion of your portfolio time to recover. Bear in mind; you do not require all of your retired life cash at 65– just a part of it. The market may be tanking when you're 65, but it might be headed to mars by the time you're 70.
Check out our recommended investing books to learn more about how to invest smartly here.
Be Real About Risk Tolerance
Yes, investing gurus state that individuals in certain age brackets should have their portfolios allotted via particular means; however, if you can not sleep during the night when your investments are down 20% for the year and the year isn't over, you may need to switch to less dramatic investments. After all, having investments is meant to provide you with a sense of economic protection, not a sense of panic.
However, don't sell it all while the market is down, or you'll set those paper losses in stone. When market conditions improve, that's when to sell several of your stocks for bonds or sell several of your risky small-cap stocks for much less unpredictable blue-chip stocks.
If you have additional cash available and intend to change your property allotment while the market is down, you may also be able to profit from infusing cash into temporarily inexpensive stocks with lasting value. Buy reduced so that you can market stocks high later or hang on to them for the future.
Be careful not to overstate your threat tolerance, which will trigger you to make inadequate financial investment decisions. Even if you're past the age where you were already "expected" to have 80% in stocks and 20% in bonds, you'll never see the returns that financial investment experts mean if you sell when the market is down. These asset allowance pointers are meant for individuals that can hold on for the flight.
Expand Your Investments
If you do not have all of your money in one area, your paper losses need to be reduced, making it less tough mentally to come through the market dips. If you have a home and have an interest-bearing account, you're on the right track: you have some cash in real estate and some cash in savings.
Specifically, try to construct a profile of investment pairs that aren't highly associated, indicating that when one is up, the various other is down and vice versa (like bonds and stocks). This also means that you should think about asset courses and supplies in businesses unassociated with your key occupation or earnings stream.
If you are completely new to investing, take a look at our beginner guide to investing here.
Final Thoughts
Crisis-Proof Your Finances by Preparing in Advance
To wrap up, having a healthy and balanced emergency fund, discovering just how to adjust to a more prudent lifestyle, as well as expanding your sources of revenue are simply a few money conserving tips that can aid you in making it through a recession.
While an economic crisis is something beyond our control, we can control how we prepare for difficult monetary times.